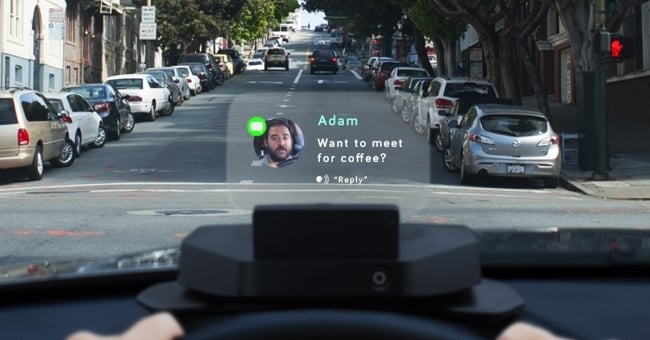 Many of us realize how dangerous it is to check e-mail or text messages while we're driving, but we don't feel like we can afford to ignore our phone. Brand-new product Navdy to the rescue!
Navdy is a transparent Head-Up Display (HUD) that projects information as if it's floating six feet in front of you. It's very similar to what commercial airline pilots use. Navdy works with any car, and with all iPhones and Androids.
Using the apps you already have on your phone, and with no service plans required, Navdy allows you to focus on the road and not on your phone.
As a phone call comes in, Navdy's built-in camera allows you to simply swipe in midair to answer calls (or dismiss them), so you no longer have to fumble with buttons or touch screens. Plus, Navdy's voice recognition uses the voice commands you're already familiar with, whether you use Google Now or Siri.
Any notification on your phone (such as text messages or social media) can be played, read aloud or disabled, based on your preferences. Navdy even allows you to keep your teenagers safe by giving you parental controls.
The product is rumored to retail at $499, but is available now for pre-order for $299. Just visit their web site at: www.navdy.com