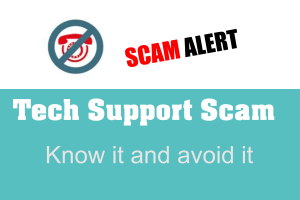 May 20th, 2016




PALMTECH CYBERSECURITY ALERT
Be Aware of These Two Scams Presently Circulating the Local Area Businesses:
SCAM #1: In this type of scheme, fraudulent callers attempt to get access to your machine, obtain credit card information, or steal additional type of sensitive info by claiming to be a tech support company.

DETAILS: Your business receives a call from "Steve" or "John" saying that he is with your IT company and he needs to update your computer or he's noticed your computer has a virus. The scammer will usually request to access one of your computers.
SOLUTION: DO NOT let any person you do not know login to your computers onsite or remotely. If in doubt, politely hang up and call your IT company.

SCAM #2: The bad guys are creating fake websites that look like major security websites (like Symantec, Kaspersky, Malwarebytes, etc...).

DETAILS Ex. 1: Scammers are using serious malware-like techniques to force people into calling rogue tech support call centers. Tech support scamming products are advertised that will cause a fake "blue screen of death" which actually locks up your desktop. Another similar scamming product mimics tech support and has been posed as a "PC Optimizer" or "Flash Player Update".
SOLUTION Ex. 1: Stay away from all adware supported programs including software pop ups and free optimizers. Use extreme caution if you are considering any download and contact your IT consultant with questions or concerns.
DETAILS Ex. 2: When you search for the legitimate site, the fake sites can come up (in some Google searches, the fake sites actually come up first!). Once you're on the site, you will be directed to download the latest security patch for your antivirus software. This "patch" is actually a piece of malware that infects your system.  Keep in mind that PalmTech manages the security patches, Microsoft patches, Adobe and Java patches for our managed clients, therefore no additional online patches are necessary.
SOLUTION Ex. 2: Double-check the address of any website you want to visit and make sure the URL is spelled correctly. Many times, the actual web address is one letter off from the actual site that it is attempting to mimic.
Always be on the lookout for any suspicious requests or activities! When in doubt, contact PalmTech at (561)969-1616 or via email at [email protected]. If you would like more information on PalmTech's Managed Services plans, get in touch with us. We'd love the opportunity to speak with you.