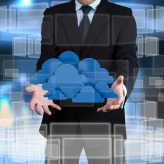 Businesses rely heavily on data for their daily operations. They use it for everything, from building client relationships to developing marketing strategies and so much more. But without data backups, businesses risk losing data in case of a disaster. Every business owner must develop a robust backup plan for their business, which includes implementing any or all of the following solutions.
USB flash drives
USB flash drives are data storage devices that include flash memory with an integrated USB interface. They are not just inexpensive and portable, but they can also be used to back up data from several computers.
However, USB flash drives are easy to misplace, which is why they're not suitable for long-term data storage. They are better used as intermediate backups.
External hard drives
External hard drives are portable hard drives that can be connected to a computer through a USB port. These devices have the lowest cost per gigabyte compared to other backup devices and boast quick transfer rates, allowing users to back up a large amount of data within seconds.
One of the drawbacks of using external hard drives is that you'll need to update your backups regularly to include new files. There's also the risk of the device being misused or stolen. For example, an employee might use the drive for storing personal files or take it with them when they quit.
Network-attached storage (NAS)
NAS is a dedicated server for storing data, and it can also be used as an email server. It has its own IP address and can operate either wired or wirelessly. NAS also offers data redundancyㅡ it generates a backup of your backups, ensuring that your files are fully protected.
On the downside, NAS can't be scaled beyond system limits. This means that you have to purchase additional hard drive bays if you need more capacity. NAS is also vulnerable to malware, and you have to configure it a certain way to keep it protected.
Cloud storage
Cloud storage is becoming increasingly popular among businesses because of its many benefits. For one, it allows users to access their data from anywhere using any internet-connected device. It also enables businesses to pay for only the resources they use. Lastly, cloud service providers (CSPs) handle the installation, management, and maintenance processes themselves, allowing you to focus on more important business matters.
However, some CSPs don't implement sufficient security measures on their systems, potentially exposing data to cyberthreats. This makes cloud storage an unsuitable solution for medical practices, law firms, and other organizations that handle sensitive data. To use the cloud, businesses in these sectors must find a service provider that implements top-of-the-line cybersecurity protocols and specializes in data regulations compliance.
Choosing the best backup solution has far-reaching impacts on your business. Each method or device has trade-offs, which is why you need to select the one best suited to your business's needs. Enlist the help of our experts to ensure you make the right choice.
Published with permission from TechAdvisory.org.
Source.