It's not your fault that your current IT services provider is doing everything backwards.
They sell you a bunch of stuff like Anti-Virus Software, Firewalls, and Security audits but they don't fix the number one problem that IBM says causes 95% of all security breaches.
So here is the really weird thing: I want to fix this for you for free, but I need your help.
According to a recent report by IBM, 95% of all security breaches happen because of human error. The truth is, many businesses and IT professionals are getting Cyber Security wrong, focusing solely on patching, firewalls and monitoring while neglecting employee training and testing. This is where PalmTech's Cyber Security Training and Testing comes in. We can help equip your employees with the knowledge and experience they need to minimize error and help them to create an awareness of online risks, which in turn reduces the chance of security breaches from happening in the first place.
Systematic Training
With years of experience in the industry, we know the ins and outs of security and the threats faced by businesses better than most. In fact, we've written a book about Cyber Security entitled "UNDER ATTACK" which unveils all you need to know to ensure adequate protection. Our training places emphasis on systematic video training approach which gives your employees a comprehensive view of the Cyber Security landscape, the devastation a breach can cause, how to recognize an attack, and what they can do to prevent them.
Accountability Testing
Once your employees are better trained and more experienced, we'll put them through a series of Cyber Security testing and assessment to see how well they perform and how much error is still accountable. You'll get access to portals so you can log in and review the progress of your employees. Our testing methods are designed to encourage cooperation, not just compliance. What's more, we can also help design new Cyber Security programs in your business to help strengthen your whole security infrastructure, too.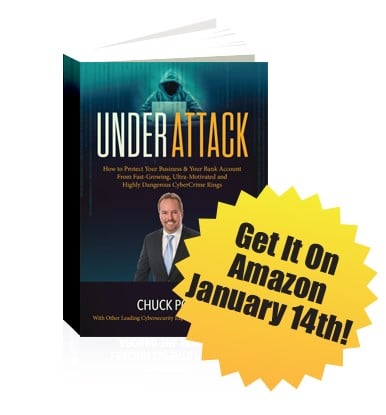 Under

Attack
How To Protect Your Business And Bank Account From
Fast-Growing, Ultra-Motivated And Highly Dangerous CyberCrime Rings.
Co-Authored by Chuck Poole, President of PalmTech Computer Solutions
Announcing Our Collaborative Book, Written Along With 26 Of The Top Security Minds In the IT Industry. Under Attack Will Be Available On Amazon.com Beginning January 14, 2016.
Buy This Book on January 14th And Get A Free Cyber Security Training Kit For Your Entire Office!
After Purchasing the Book on Amazon.com,
Email Your Receipt to

[email protected]


in Order to Obtain Free Cyber Security Training
for Your Entire Office!
Please note the following offer qualification and exclusion:
You must have at least 15 computer users
Our unlimited training is valid for 120 days (if you need more time, we're happy to give you an extension)
"For anyone that thought that updated Anti-Virus software was enough to protect their business from hackers, I'd highly recommend reading Under Attack, because software is definitely not enough. It really changed the way I think about my company's IT security."
"The Electronic Revolution is spreading far and wide, and after reading Under Attack, I realized how important it is to make sure your business is ahead of the curve with security. The more electronics are involved, the more risk there is. This is definitely worth a read for any business owner."
...Read More
"I didn't know about cyber security. Well, I thought I knew about cyber security, and then I read Under Attack, quickly realizing how little I actually knew. I'd suggest reading this book to get yourself and your business up to speed. In fact, it should be a requirement for business owners and
...Read More
"I've got insurance in all kinds of areas for my business. But I've never had insurance for the internet and cyber side of things. After reading Under Attack I'm going to make sure I've got the best IT people to provide that insurance."
"I've usually been pretty diligent with my IT security. I've got good people in place, I keep a close eye on all the potential red flags, and I try to stay on top of everything. Under Attack made me recognize how important it was to keep my staff trained as well. After reading this book, I am
...Read More
"This book has really opened my eyes to how unprotected our firm actually has been. I found the detail given to be most helpful in defining the hazards that exist. Now we are taking strides that will put us on more secure ground than we have ever been."