Last week, our office park was hit by an organized group of mail thieves. They broke into several boxes including the outgoing mail drop. Why would they do this? Check washing. It's not a new scam but according to Postal Inspectors, it's on the rise. Just up the road from our office, several other commerce parks were victimized. In those cases, the Postal Inspector said the thieves actually had master keys and were in and out in minutes.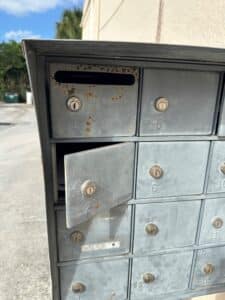 Last night, WPTV highlighted a case in Wellington. You can view the story here:  https://www.wptv.com/news/local-news/investigations/check-washing-scam-hits-wellington-businesses
HOW DOES CHECK WASHING WORK?
In short, the thief soaks the check in a chemical that removes the ink, changes the payee and amount, and then deposits the check into a compromised checking account.  In one variation of the scam, the thieves take out ads for online work-from-home jobs and promise the new "employee" that all they have to do is deposit checks into their account, keep a percentage, and wire the rest to the thief.  While most of us would not be fooled by this type of gig, people who are desperate for a job will often do things to please their new employer.  In the end, they also become a secondary victim of the scam.
Don't be a victim.
THERE ARE SEVERAL THINGS YOU CAN DO TO AVOID BECOMING A VICTIM OF CHECK WASHING:
Pay all vendors via online ACH payment portals. Almost every vendor on the planet has gone to electronic billing and payment. By using fully electronic ACH transfers you completely eliminate this risk. Yes, there are other risks to electronic transactions, but these can be managed with proper advice from your IT department.
Use positive pay. All banks have an advanced feature that you can add to your checking account. It requires some extra work as you must enter each check into an online portal ahead of time, or in some cases, you have 24 hours to review all checks presented before they are actually paid.
While not foolproof, use a pen that contains indelible black gel ink to write your checks.  Fraud Prevention Gel Pen, Black Ink, 3-Pack (amazon.com)
With some planning, you can avoid the hassles associated with this increasingly prevalent scam.
If you have questions or concerns, email us at [email protected] or call us at 561-969-1616.
Yours for a more secure world,
Chuck Poole, CISSP
CEO of PalmTech Computer Solutions