Computer Network Cabling And Wiring West Palm Beach
Attention Business Managers: Don't Get Ripped Off By "Some Guy with a Ladder and a Spool of Cable"
Not all network cabling jobs are the same. The dirty truth is that we started our network cabling division not because we thought we could make a million dollars. We started providing cabling because as IT professionals the quality of our work DEPENDS on having solid electrical connections, organized network wiring systems, and properly labeled and documented jacks. Most cable contractors have no idea what happens with the cable after they install it. They don't understand that higher quality cable and connectors reduce problems, increase speed potential, and are usually a 15 year investment. This means they end up using non-qualified low-voltage subcontractors that pick up the cheapest wire and connectors they can find. The fact is, dealing with a professional doesn't cost more and will insure that you won't have to replace your cable again in 5 years as the standards continue to evolve or because the proper tools or techniques were not used.
Call us today at 561-969-1616 and discover what working with a true network wiring and cabling professional in West Palm Beach is like.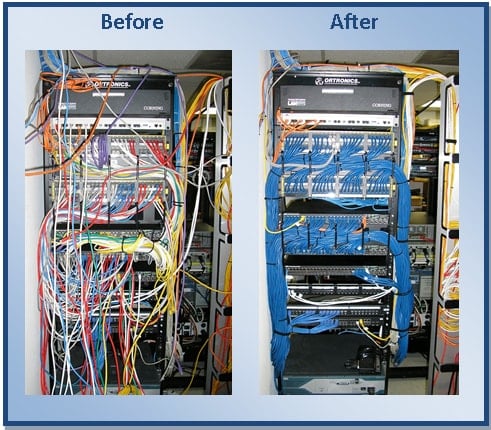 Adaptable Office Moving and Office Cable Installation Services
An IT infrastructure that can adapt to the inevitable changes in your company is crucial, and is a sound investment for your business. With office cable management plans that are built to last, you know you're getting an IT solution that will help you achieve more in the future.
PalmTech Computer Solutions offers office network cabling and office moving services for businesses like yours in West Palm Beach, Boca Raton and Fort Lauderdale that need the reliability, performance, and endurance that scalability delivers.
The experts at PalmTech can provide these office cable management services and office moving solutions for your growing business:
Wiring Infrastructure - for your new construction or upgrade to fiber optics
Relocating your Business - including total network, server, workstation, and printer moves
Facilitation of your Move - which includes your email, telephony, Internet, and website
As-Built Documents and Cabling Schematics - to design a strong foundation for your new network
With network cabling solutions that develop as your business does, you gain the confidence that comes from knowing your office is supported by a durable IT foundation.
PalmTech will deliver an expert network and cabling solution that will yield high returns from your investment as it adapts to the growing needs of your company. With service in West Palm Beach, Boca Raton and Fort Lauderdale, our team of professionals provide money-saving office cable management services that grow with your company for years to come.
When you need a dependable solution for rack management services, networking & cable equipment, cable moves/changes/adds, office moving, network cabling analysis, office cable management, or structured cabling system design services, you can be sure you're in for an affordable solution that works for your company.
A solid structured cabling solution is the clear choice for cabling services you can count on for the entire life of your business. Our office cabling services and office moving solutions are created with your long-term success in mind.
Complete the Form Below to Receive the 21 Questions Report:
What Every Business Manager Must Know
About Hiring an IT Company